My frozen app won't start
In this scenario, fbs run works but running the binary obtained from fbs freeze gives an error. On Windows, the error is typically shown in a dialog: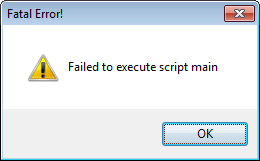 Besides main, the error message may also mention fbs_pyinstaller_hook – see further below.
Failed to execute script main
To get more information in this case, run the following commands:
fbs clean
fbs freeze --debug
When you then start the standalone binary of your application from the command line, you should see a lot more debug output. If it contains an ImportError, see the section on Dependencies in fbs's Manual for a possible solution.
Failed to execute script fbs_pyinstaller_hook
This typically happens when your code does not create an ApplicationContext. This is required for fbs to work. Please see the tutorial for an example.